---
RE: Verdant Skies - Life Simulation, dating, farming, plant hybridization, and more! - AndyKorth - Dec 21, 2016 05:20 PM



Gamer's Rhapsody: Best Game of 2016!


At Gamer's Rhapsody we won 2016 Game of the Year and Best Story! And best of all, we had a lot of players who got to sit down with Verdant Skies and play through the beginning of the game. Since Gamer's Rhapsody is a relatively small convention, players were able to continue their saves on the second and third day of the convention, so half a dozen players were able to get 1-3 hours of gameplay! Thanks to our dedicated testers who got through the first 3 character events, picked and sold $500 worth of flowers, and got all the tool upgrades.



Thanks to Gamer's Rhapsody for an amazing con!

Feedback from the testers filled several notebook pages and has been a huge help in balancing prices and the timing for the first dozen events.



Polishing Animations



A lot of polishing is happening throughout the game. One good example is this new animation when fields are watered.



Look at those fields!




Fertilizer, Sprinklers, and Area Specific Crops



I've been working on some of the more advanced farming features. After watching some of the people who played a longer amount of time at Gamer's Rhapsody, I realized there was room for more advancement in farming. Once players have done a few rotations of crops in one or two fields, they are looking for some ways to make themselves more effective. Fertilizer increases the growth rate of a crop - and a certain genetic trait makes it a requirement. Sprinklers allow you to water a whole 2x2 field with a single touch.



Drag and drop to apply fertilizer

I've also finally done the programming to unlock region specific crops. Rice, for example, grows only in the marsh. Cactus plants can only be cultivated in the mountains.



Controller Support



We've added controller support and the ability to rebind the keyboard keys. The game is still completely playable with just the mouse, but our goal is to make it playable with just a keyboard or just a controller as well. We're testing with XBox, PlayStation, and Steam controllers, but the system should work with just about any controller you can imagine. Worst case, you'll have to bind some buttons manually in the interface. </p>




The biggest challenge with controller support is making sure all the menus can be navigated effectively with the controller. This has proven to be time consuming so far, but it's just a matter of sitting down and doing the work.




This is one of six new hairstyles.

We're continuing to add new clothing and hairstyle options. I've developed an animation testing tool so it's easier to make sure all the clothing lines up properly.



Introducing Rosie






Rosie Martinez is the colony's talented mechanical engineer. Blind from birth, she never let her disability hinder her adventurous nature. She has a knack for fixing things and has many patents for her original designs. Respected by her peers on the home world, Rosie now uses her gifts to aid you in your colonization of Viridis Primus.</p>


---
RE: Verdant Skies - Life Simulation, dating, farming, plant hybridization, and more! - AndyKorth - Mar 1, 2017 12:21 PM

Yeah, technically it might be March now, but we've been so busy working on the game, posting about the news falls to the back burner. And honestly, making the game is more fun than writing blog posts anyway.

Cleanup, polish, improvements, and even a few new features have been the focus for the last month. Under the hood, there's been some big upgrades to the audio engine (upgrading WWise to a new version) and a major rework on how shadows and reflections are rendered. These changes allow for better performance and fix a few outstanding graphical glitches that we've mostly just avoided showing in screenshots. Shadows and reflections are now much more consistent. For example, when you see a flower waving in the wind, the reflection and the shadow now also wave.






Insect Catching



Insect collecting is a new memory-matching style mechanic we've introduced. Alpha testers have loved the fishing mini-game, so we wanted to expand that to other resource gathering tasks. In order to successfully collect an insect, you need to find a matching pair of them out in the world. Once you've got a pair, the insects go into your inventory and can be sold (maybe even cooked), or given to a character who collects them in their terrarium.



Jade's Room



New Interior Decorations



Lizzy has been hard at work making new interior decorations (in addition to new portraits for old and new characters). The extra wallpapers, floors, and new furniture allow for a lot more personalization in the interiors.



Rosie's Room



Story and Dialogue



Two new characters now have their arrival events written, bringing the total of already unlockable in-game characters to six. We've got 6000 lines of dialog in the project so far, and we've fleshed out most of the first five friendship events for the first four characters. After the five friendship events, you unlock the next five romance events- somewhere towards the end of that group, you make the decision to exclusively date that person, which can lead you towards marriage.  






We've also done the programming work necessary to move the quests, mails, and event triggers out to a separate file. These are easy-to-edit json files, and it allows us to work on them without having to recompile the game. But more importantly, it allows for the possibility of users editing the files to add their own content!



The cave has also received some upgrades.



Preorders Available



We've made pre-orders available via the Humble Bundle store! Once Verdant Skies is released, you can redeem a steam key for the game through the Humble Bundle site. If you'd like to support our development process, you can preorder on the Verdant Skies (http://verdantskies.com/#preorder) page. Pre-orders aren't for everyone- don't worry, we'll let you know when the game is released too!



Trees take a few days to regrow now, forcing players to explore a bit further if they are doing major lumber construction projects.




Introducing Jade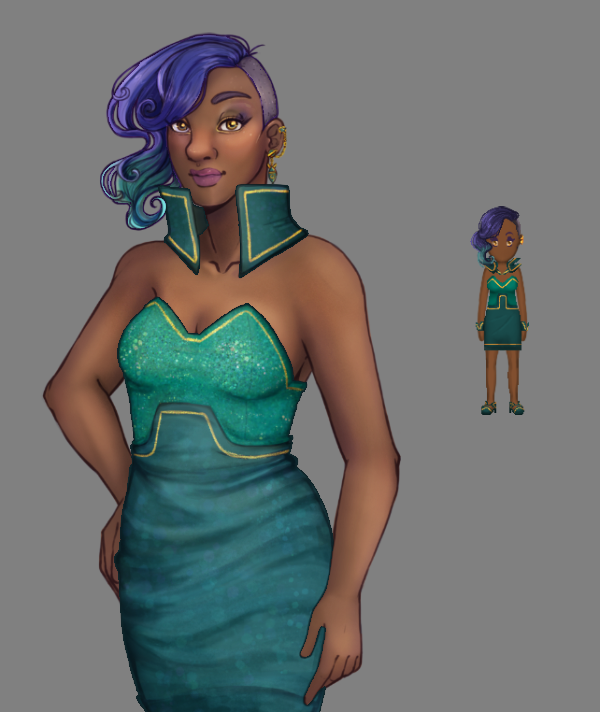 The mastermind behind the colonization of Viridis Primus, the colony's administrator Jade Worthington is a force to be reckoned with. Direct and driven, Jade enjoys the company of likeminded people. Laziness or ineptitude is sure to land you on her bad side. Her motives are a mystery but it is obvious that she is determined to make this endeavor succeed no matter the cost.


---
RE: Verdant Skies - Life Simulation, dating, farming, plant hybridization, and more! - AndyKorth - Mar 29, 2017 02:02 PM



New fog effects, audio, controller support!


March has been a busy month for us; we showed Verdant Skies at MinneBar, a Minnesota tech conference. We all worked really hard to make VS as polished as possible for the event. For me, that meant a lot of work into perfecting the controller support, since only XBox controllers were available at the event. We got a great team picture of myself, Beth, and Lizzy.






Marsh Fog


Scott ( @slembcke ) had some free time to help out on the project, and one of the awesome shaders he wrote adds fog to the marsh. Fog changes with the time of day and has a configurable height off the ground. It's all drawn in the same pass as the sprites themselves, so it's very fast. We've also got a nice night-time / morning fog that occurs in other areas.






Even More Interiors


Beth ( @bethkorth ) has been hard at work making interiors for the new characters. Without revealing too much about the new ones, here are a few sneak peeks.






New Sound Effects and Music


Our two audio masters have been hard at work! Troy ( @yellowchord ) has started writing adaptive music for Verdant Skies, so the outdoor music will flow and change with in-game events dynamically. Topher ( @PhantomFreq ) did a great pass through the sound effects in-game. There are a few special events like the house construction that feel much more satisfying with sound.



Improved Fishing


Spear fishing has been a big hit at testing, people say it's a lot more exciting than waiting for a fish to bite. Topher added new sound effects to the fishing mini-game and I programmed different fish characteristics, so you can see which fish you're going to catch.




Each region of the map has different fish. Being able to identify which fish are which is pretty handy. In this case, the little fish in the middle is a "Flying Trout", and it's a good one to target since it's great for sushi- an easy to make early cooking recipe.
The fish that are easy to cook are great early-game energy boosters for players who want to get the most out of each day.




Since there are more regions, we needed more types of fish!

Meanwhile, work continues on character events, bug fixes, usability and UI improvements, and all the usual stuff.



Introducing Wyatt




Every space farming colony needs a reliable botanist, and Dr. Wyatt Jones is yours! Friendly albeit a little distant, Wyatt finds little use for small talk. However, he will be more than happy to speak at length regarding the sciences. Use his vast knowledge to aid you in your farming endeavors.


---
RE: Verdant Skies - Life Simulation, dating, farming, plant hybridization, and more! - AndyKorth - Apr 28, 2017 11:25 AM



Spring has sprung!


Much like our world outside, there's many things blooming in the development of Verdant Skies! From crops to insects, we've added some great new art. Love is in the air as we continue to expand on the relationship system. Of course, what update is complete without some bug fixes!






Working on Relationships


Lead Writer Beth ( @bethkorth ) finished the first draft of Rosie's entire character arc. From your first meeting all the way to the commitment ceremony, it's amazing to see it all come together! Andy ( @kortham ) worked on the programming required to flag relationships as exclusively dating or married. Different characters respond differently to you based on your relationship status, and each individual relationship moves at a unique pace. Some characters want exclusive status early in the relationship, and others don't care at all.
If you become good friends with someone, but decide not to date them, you move down a friendship path, and you'll get an extra friendship event in place of the dating ones. Next month, we'll give players a way to break up with someone they are dating. A similar interface can be used to start dating someone you previously turned down.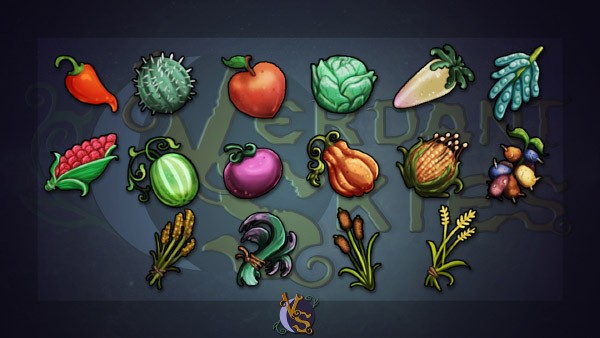 Finalized Crop List


Crops are done! Lizzy ( @Pixilizi_Art ) has completed the artwork for all the growing stages of the 14 crops in the game. There are four crops native to each of the regions - plains, mountains, and marsh, and there are two extra crops found across the river. In testing, this is a pretty good sweet spot where you've got a lot of variety but you don't have crop-overload. Since the player can genetically modify each species they have, they can end up with a lot of seeds!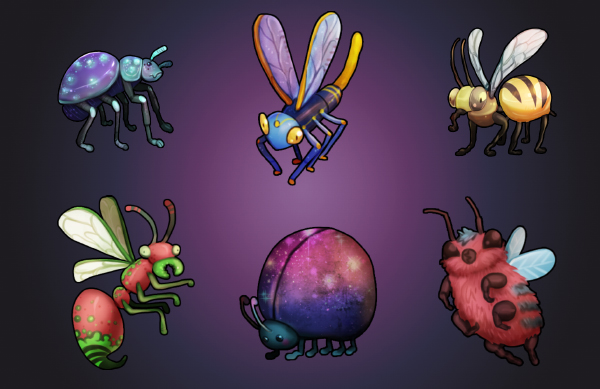 New Bug Art


Lizzy has also been busy working on art for the bugs that will be inhabiting Viridis Primus. Here's six in addition to the Angler Mite you'll see in the insect collection image below. These little guys are probably a lot cuter than the insects that may be invading your garden or home this spring. Check out that fuzzy coat on our adorable little Umbra Bee on the bottom right!






Lots and lots and lots of fixes


I skim through the changelog to remind myself what we did over the past month, and this month there were about 4 pages worth of fixes. A lot of these are too small to mention, but it includes many fixes to furniture, controller support fixes, improving the usability of various UIs. We made a concerted effort to go through all the clothing and fix minor layout problems with them. One playtester noticed that the crafting recipe for sawdust required that they already had some sawdust, so that was fixed. Some of the oldest art in the game, such as the shipping box and scrap pile was redone to match the improved standards we have now.






Play Verdant Skies at GlitchCon17!


Verdant Skies is honored to be included in this year's Minnecade! Come playtest at GlitchCon May 5-7th. We're hoping to get some really long playtests out of this convention in order to test some of the new content. Most people who play for 2 hours really only start to scratch the surface of what we've got finished... which is really encouraging!


---
RE: Verdant Skies - Life Simulation, dating, farming, plant hybridization, and more! - AndyKorth - Jun 19, 2017 11:29 AM



No summer vacation for us!


With no May update you may have thought we were taking the summer off. Nothing could be further from the truth! While many are out enjoying the summer sun, we've been hard at work creating content for Verdant Skies.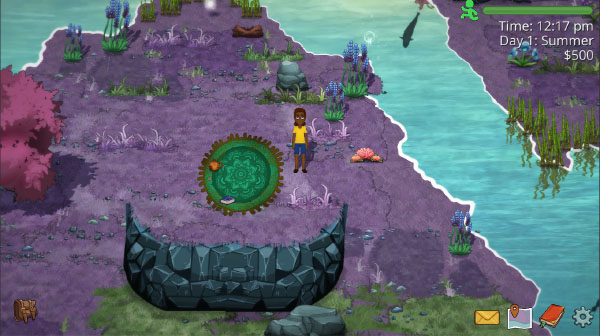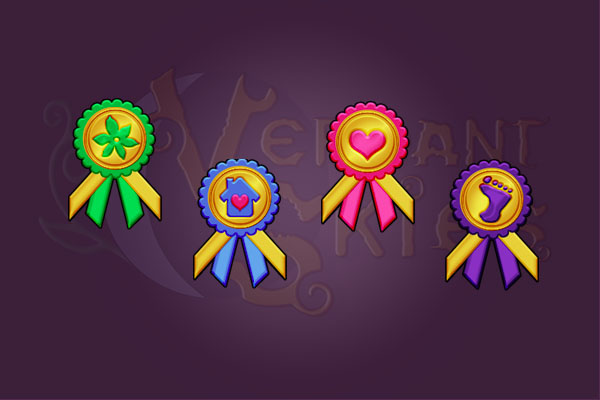 New Recipes, Award, and UI Art


Lizzy (@Pixilizi_Art) has been hard at work putting polish on much of the UI. She added some new vibrant colors to the old recipe icons, and created some new award icons that you may see popping up in the newly redesigned Achievements panel.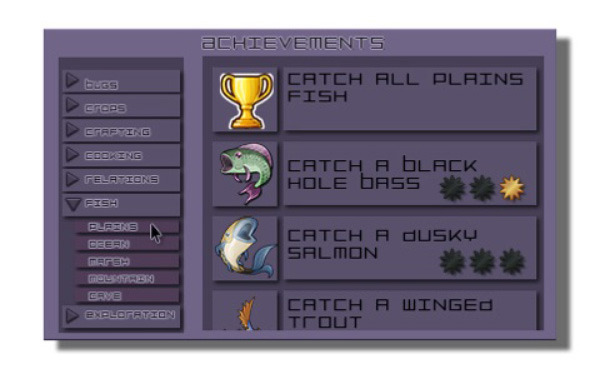 We are still considering some different approaches for the new panels. Here are mock ups showing off a couple of the possibilities we are exploring. Works still in progress!






The Science of Sound Design


The audio team for Verdant Skies presented the game at the Science Museum of Minnesota! Troy (@YellowChord) and Topher (@PhantomFreq) were asked to participate in an event called "Social Science: The Science of Pixar" and brought Verdant Skies to show attendees how sound can impact games and animation. They brought a variety of sound effects including footsteps, wood cracking, champagne bottles popping, and farts to demonstrate the effects that sound design can have on the play experience. It was easy to make switches in real time due to the software we're using for Verdant Skies. Wwise is an audio middleware program that allows audio professionals to make detailed changes to the sound while reducing the work for the developer. Players were wowed not only by the sound and music, but the gorgeous hand-drawn art, diversity of characters, and spear fishing.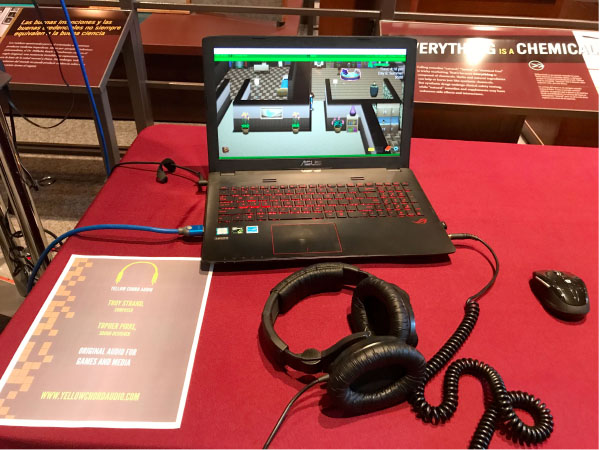 New Character!


Along with revisions to some of the events for our already announced characters, Beth (@BethKorth) finished the first few relationship events for our newest character.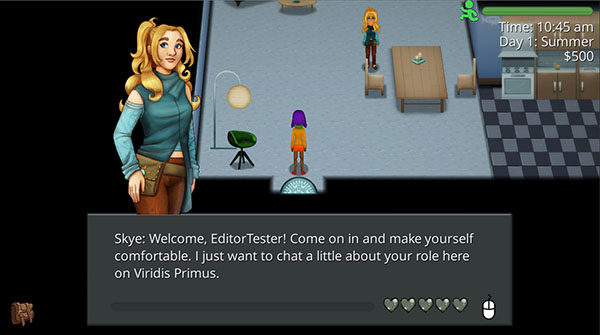 Meet Skye Miller


Despite being paid by Planetary Pioneers, Skye takes seriously her ethical responsibility to produce an unbiased narrative of the colonization of Viridis Primus. Her desire for an honest representation sometimes puts her at odds with Jade who would prefer a more positive spin on the colony's progress.



Programmer's Corner


There's tons of changes to report, as always! Over the last couple months, Andy (@kortham) has implemented dozens of changes. The most interesting change is that we now have cave fishing! He also improved controller support, and upgraded the AI for the NPCs so that they have more realistic wandering. To address a problem with NPC pathing, he made it so that the NPCs now favor walking on the paths, and the player will be unable to block the roads by constructing items.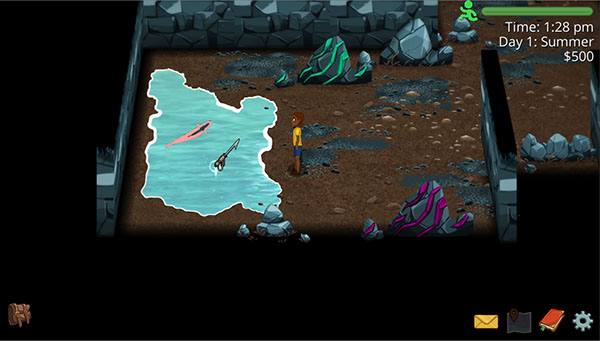 ---
RE: Verdant Skies - Life Simulation, dating, farming, plant hybridization, and more! - AndyKorth - Jul 31, 2017 09:01 AM



Busy as Bees!


The last few weeks we've been buzzing about preparing for several showings. First up is 2D Con from August 11th to 13th at the Doubletree in Minneapolis. We will also be at the Social Science event on August 16th at the Science Museum of Minnesota. We've also had some longer playtests that allowed us to test content beyond the tutorial.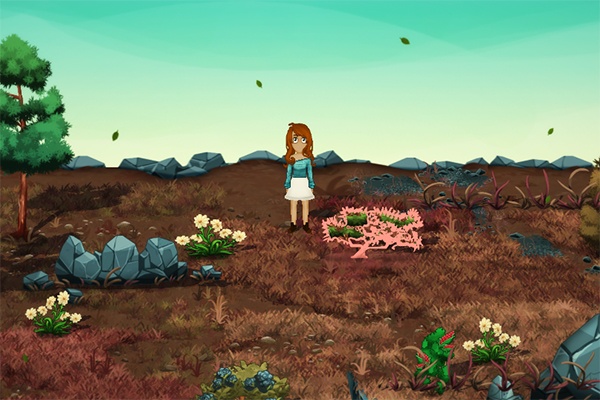 The Relationship Journal, Badges, & More!


Andy finished programming the journal, which is an important tool to manage your relationships with the other colonists. At first, the journal only shows your current relationship status.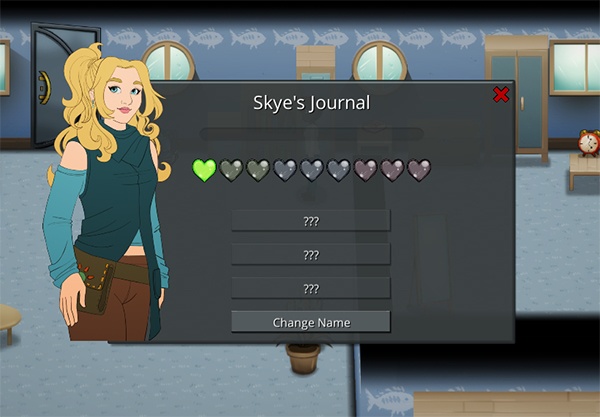 As your relationships mature, additional options unlock. The journal is used to breakup with someone you're dating, to ask them to marry you, or to move in together. If you've broken up with someone, the journal can be used to start your second chance to the relationship. As we've been discovering, there are a huge number of possible routes you can take through a relationship. Beth has been diligently working to ensure that all the possible events for relationship changes are covered.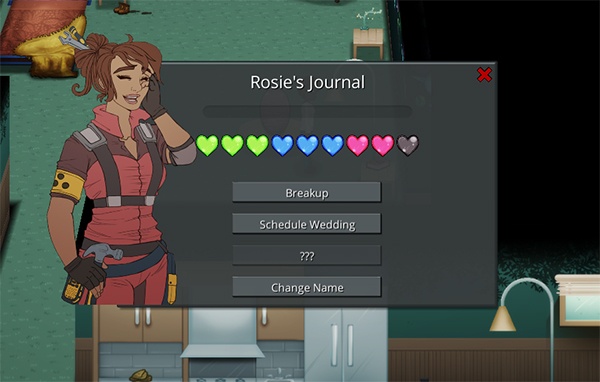 We have finalized a lot of technical details around how relationships will progress. We've decided which characters will require exclusivity, which ones don't, and what exactly that means when it comes time for the player to settle down. Here the player has had a baby with Rosie, so they have earned a special badge that shows up alongside the relationship hearts.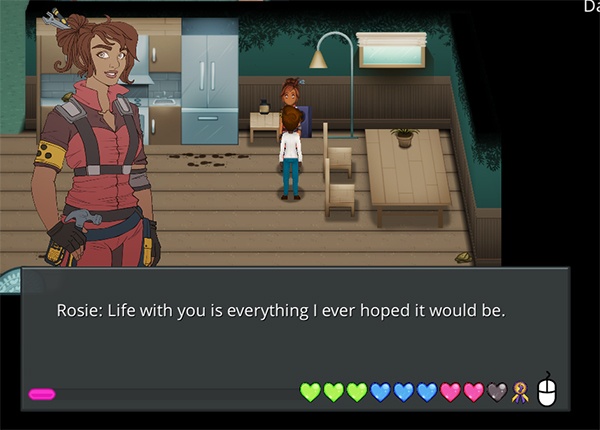 Player's Log



You can track your tool upgrades and special items in the new player's log. Tools have three different levels. Better axes and hammers use less energy and work faster. The improved hoe allows farming in different areas. The fishing spear throws faster and affects a larger area, making it easier to get multiple fish with one spear.

Crops will also be tracked in the player's log. Certain crops can initially only be obtained and grown in specific biomes. As you progress, you may find the genetic trait that allows you to grow a crop in any biome.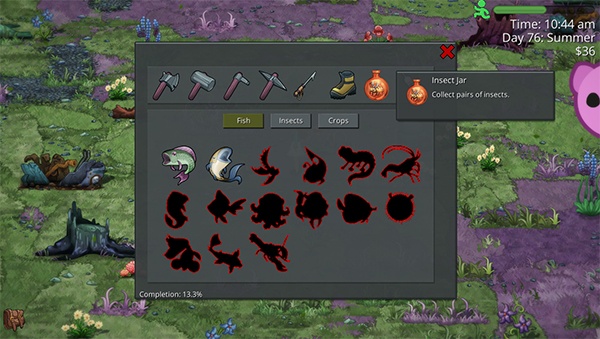 The log will also keep track of your progress as you collect fish and insects. Like crops, certain insects and fish are only found in one biome. You'll have to explore far and wide to make sure you catch them all!




Map Complete


The world has finally been completely filled in! We'll have minor tweaks and cleanup, but it's nice to have this big task finished. The world is roughly divided into a six different areas: the town, the plains, the marsh, the mountains, the forest, and across the east river. In our testing, most players get into the marsh first, and then build the bridge for the other side of the river, but sometimes people switch that around. Although some of the mountain is available from the start, getting to most of it requires some special equipment...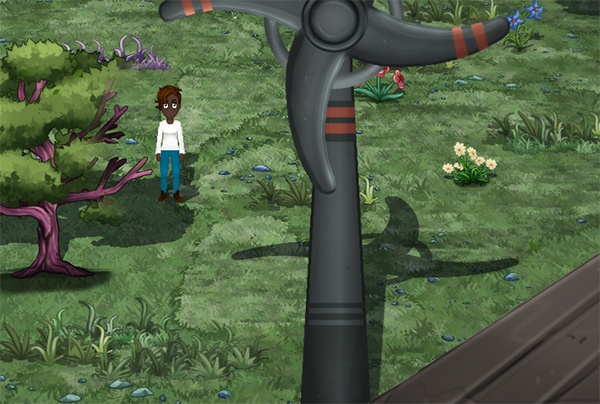 More Late-game Content


Andy spent a few weeks adding end game content. One of the things that our testers really would have appreciated is a way to increase their storage size. Seed storage seemed to run out first, but having extra storage in each group will be very useful! Next up in this category will be to add some mysterious content to the world...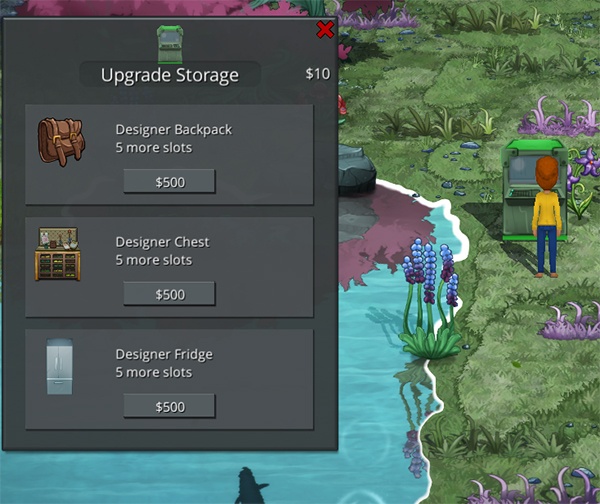 Play Verdant Skies at 2D Con 2017!


Verdant Skies is honored to be included in this year's Indie Island at 2D Con! Come check us out August 11-13th and be some of our first beta testers!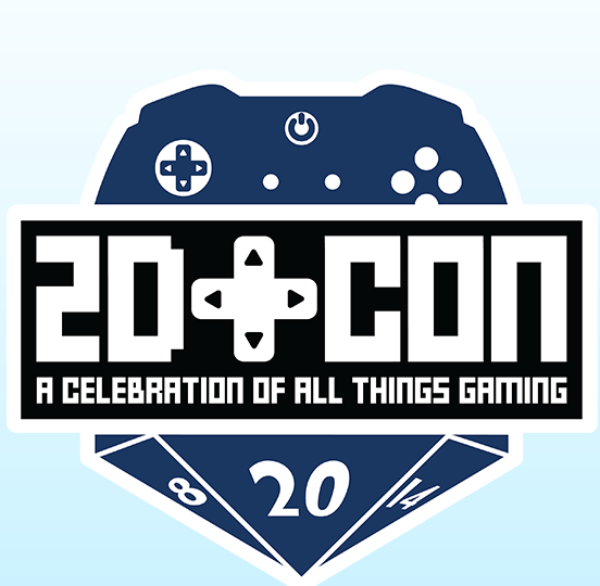 ---
RE: Verdant Skies - Life Simulation, dating, farming, plant hybridization, and more! - AndyKorth - Aug 25, 2017 08:42 AM



Verdant Skies Coming to PAX West!


It feels surreal to say that we are showing Verdant Skies at PAX West September 1-4 in Seattle, but we are! Our booth is # 7115, and we are very excited to be right across the aisle from Larian Studios on the 6th floor of the expo hall. (We're really big fans!)

This is a huge step for us in our development process, and it is exciting as well as stressful! Depending on how our meetings go with publishers, we may finally be able to say we have a release date!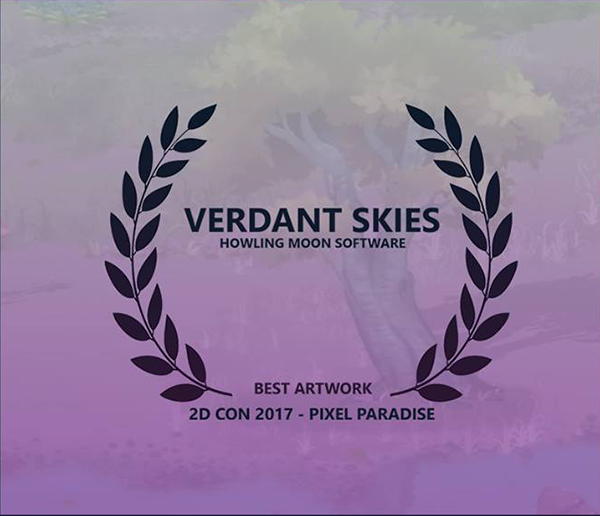 Best Artwork at 2D Con 2017!


Even though most of the compliments we receive are about our very unique art style, it is always a pleasant surprise to be officially recognized. Congratulations and thanks to our very talented artist Lizzy on a much deserved win! There were a ton of awesome games at 2D Con this year, so we feel extra proud of our win for Best Artwork! Congratulations to the other winners: Pinbrawl (Best Multiplayer & Gameplay) and Newt One (Best Single Player, Soundtrack, Gameplay, and Game of the Show).



Game Development as a Science


The Verdant Skies team was back at the Science Museum of Minnesota for their Social Science: The Science of Pixar event on August 16th. Andy (@kortham), Beth (@BethKorth), Lizzy (@Pixilizi_Art), and Troy (@YellowChord) gathered some valuable feedback on our latest build. Despite a strong hesitancy to cut down any trees in game, everyone really enjoyed themselves, and a bunch of folks joined our mailing list.






New Animals!


While Lizzy would love to create every art asset in game, it just isn't possible with the sheer number of items we need illustrated. With that in mind, we reached out to local artist Deborah Garcia to bring the animals of Viridis Primus to life. We don't know about you, but the team is absolutely in love with the little critters!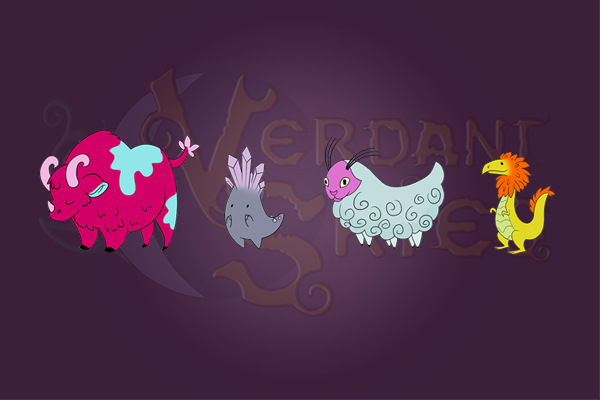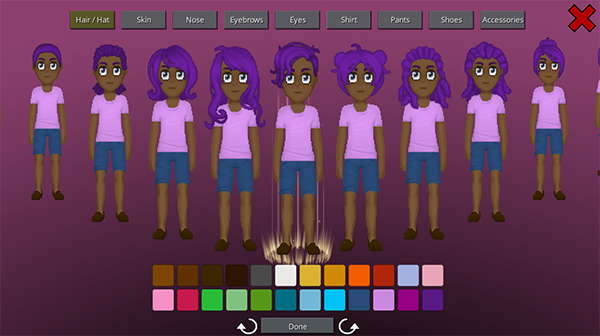 New Avatar Creator with Mouths and Noses


We really want our players to be able to see themselves in Verdant Skies. One of the key features that makes that possible is the avatar creation interface. Though the original interface wasn't terrible, we think this revamp will really help folks visualize their options.

A recurring criticism of our avatars has been that they look "creepy" without anything occupying the bottom half of the face. We played around with different combinations to address this issue, and are pretty happy with the direction we're headed. They need a little polish, but we now have mouth and nose options!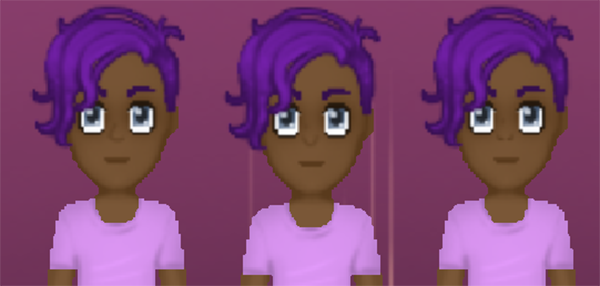 Genetic Splicer Tutorial!


Many of our playtesters have loved diving into the genetic splicer to create seeds with amazing traits. However, some folks have trouble figuring out how the slider works, and how to best utilize the machine. So Andy made this handy video tutorial to explain how to get the most out of modifying your crops.





Combine two seeds of the same type to create a better hybrid!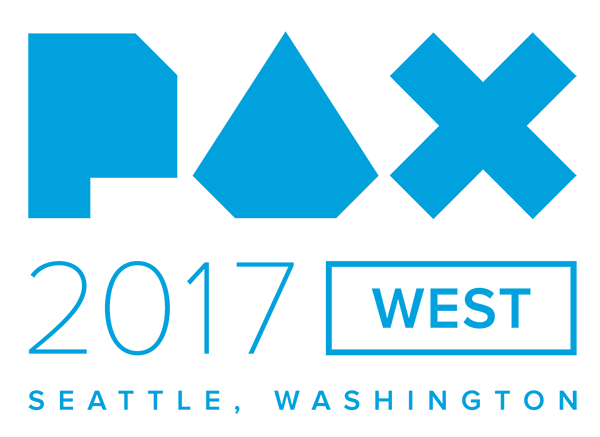 Play Verdant Skies at PAX West 2017!


We always love to meet our fans and get their feedback. If you, or someone you know is going to be at PAX, please stop by our booth and say hi!


---
RE: Verdant Skies - Life Simulation, dating, farming, plant hybridization, and more! - AndyKorth - Oct 6, 2017 02:16 PM



October Development Update









Featured in PCGamer!


We are very happy to have been featured on PC Gamer's website. Lauren Morton focused on one of the mechanics that makes Verdant Skies stand out in the farming life simulation genre - genetic splicing! If you haven't checked out the piece, you should. It's a great read!

http://www.pcgamer.com/verdant-skies-is-a-farming-sim-where-you-play-as-a-space-scientist/






Exterior Excellence


One thing any homeowner can tell you is that painting your house is no easy task. Thankfully, Andy's made it a far more enjoyable experience to customize your home's exterior in Verdant Skies. You can now change the design and color of your door, windows, as well as the texture and color of your exterior and roof.






Improved Beds


The exterior of the player's home isn't the only decorative feature that's received an overhaul! Our flat beds have been upgraded. The layers have been tweaked to give them a much more realistic depth. Check out the before (left) and after (right) below!






Livestock Leashes!


Since adding animals to Verdant Skies our playtesters have had an overwhelming urge to treat their livestock like a pet. You asked, and we listened! Using the same awesome physics as the gardening hose, Andy created this little rope leash so that you can take your favorite friend out for a stroll.






Meet Miles!


As a stipulation of his contract to sponsor the colony, Miles Kelly owns the only shop on Viridis Primus. Frugal and always on the lookout for a great investment opportunity, at times he seems more concerned with profits than people. However, Miles can make anyone feel like his most important customer once they enter his shop.

---
RE: Verdant Skies - Life Simulation, dating, farming, plant hybridization, and more! - AndyKorth - Nov 30, 2017 04:54 PM



Steam Page is Live!


Our Steam page ( http://store.steampowered.com/app/730050/Verdant_Skies/ ) is up! If you haven't already, please visit and follow, favorite, or wishlist your copy of Verdant Skies today!






Eclipse Season


There may be four seasons on Earth, but there's only two on Viridis Primus – Summer and Eclipse. No crops grow during the Eclipse season, giving you a chance to catch up with the other colonists. But don't worry! Unlike winters on Earth, Eclipse season only lasts 5 days.






New Icons


Here's a few of our new cooking and tools icons, courtesy of Sarah Seember Huisken ( https://www.movieshouting.com/ ). There will be more to come as we continue to expand our crafting systems.






Customizable Furniture


Making your house feel like a home is hard work! Now you can change the color of the wood on your furniture to suit your style. Don't worry about the high price tag! Once you purchase a stain color you may reuse it again and again.






A Curious Cave…


No mining will be happening in this cave. It's far too small for you to squeeze inside! But a voice from the depths implores you… "bring snacks…" Can you decipher the mystery of the tiny cave to unlock a special item?






Introducing Skye Miller!


Despite being paid by Planetary Pioneers, Skye takes seriously her ethical responsibility to produce an unbiased narrative of the colonization of Viridis Primus. Her desire for an honest representation sometimes puts her at odds with Jade who would prefer a more positive spin on the colony's progress.






Winter Is Coming


As the cold weather moves into the Midwest, it's the perfect time of year for game development. We're definitely not going into hibernation over the holiday season! In fact, you can look forward to two developer updates in the month of December.


---
RE: Verdant Skies - Life Simulation, dating, farming, plant hybridization, and more! - AndyKorth - Dec 14, 2017 02:38 PM



Making New Friends


As you build your colony on Viridis Primus, you'll also be building relationships with your fellow colonists. Today we'll explore some of the technical and creative tricks we use to craft the immersive narrative in Verdant Skies. We'll also give you an update on our Steam integration progress and reveal another NPC.






Steam Integration


Once you've got a Steam page set up, you need to integrate the Steam library into your game. We're working on support for Steam achievements, cloud saves, and the steam workshop. Scott ( @slembcke ) is helping out with the integration, and so far we've got the game launching with the library activated and the Steam overlay showing up. Achievements are unlocking, so the rest of the Steam features should be wrapped up soon!






Relationship Progression


Like many games in the life simulation genre, Verdant Skies offers you an opportunity to befriend and romance a set of non-player characters (NPCs). There are 12 NPCs in your colony. Any player can date all of them… in one play through.

Your relationship progression is tracked with a bar and a set of 9 hearts which appear at the bottom of the NPC dialogue box. The bar fills as you complete collection events and speak to your potential mates. Answering their questions in a favorable way can award bonus points towards achieving the next heart event. However, answering in a negative manner can decrease your relationship points. So listen carefully to what people have to say to ensure you don't offend them!

The first 6 events for all characters are available regardless of if you choose to date someone. Events 7-9 are accessible once you have elected to date that NPC. Some of the colonists require exclusive dating, while others are willing to let you explore relationships with multiple people at the same time before settling down.

Even if you decide to move in or take commitment vows with one NPC, the journal feature, which we discussed in our July newsletter, allows you to break up with your current significant other to pursue (or resume) a relationship with another.




Friendship, Move In, Committed, and Baby badges. These appear in place of the hearts in dialogue boxes when you reach these milestones with the colonists of Viridis Primus.



Branching Dialogues


Depending on your previous choices, NPCs will react differently to you. Some decisions (like in the example below) are flagged and triggered within the same event. However, other decisions can have lasting effects. You may not immediately feel the impact of your decisions, but there are always repercussions.

We're up to 35,000 lines of dialogue, but we're not finished yet! Along with their 9 relationship events, each NPC also has daily dialogues that correspond to each level of your relationship.






Variables


In order to make you feel like you're a part of the colony, we use different variables to track player and NPC names. Depending on your level of friendship, each NPC also may call you by a different nickname or pet name. They'll also know if you're already dating another colonist and will refer to them by name.






Introducing Doctor Zaheen Patel


Colonists of Viridis Primus who fall ill will have the privilege of being treated by Doctor Zaheen Patel. Mindfully practicing medicine through a holistic approach, Zaheen is well liked by their patients. Zaheen's presence in the colony is sure to help with morale due to their warm nature and conflict resolution skills.


---
RE: Verdant Skies - Life Simulation, dating, farming, plant hybridization, and more! - AndyKorth - Dec 28, 2017 12:32 PM



Announcing Mod Support!


Customize artwork, dialogs, mails, items, crafting recipes and more using the Verdant Skies modding system! Since development started, we knew we wanted to support modding. We're allowing users to use the same methods we used to create the content for the game to create their own content.




Load multiple mods at once, and sort them in priority order (if mods override the same content, the one on top takes precedence).

With the modding system, you can override just about any artwork in the game. We also provide an option to export the artwork of character you've created in the dressing room, to make it much easier to create new characters. You can add new items, and decide what is needed to craft those items:




All of the character events were created using our dialog editor, which is fully available to mod authors. This scripting is easy to jump into, you don't need to know a programming language to make something really neat. You can add events to existing characters, replace events, or even add new characters. You can also create mails and quests. Each character's core info can be changed too - such as their schedule, where they wander, if they require exclusive dating, their pet names for the player, and the things that they collect.




Right now, there are a few limitations. While all the quests in-game were created by this system, a few of them have special triggers in the code that you won't be able to replicate. These are mostly tutorial-type quests that trigger when you do something special, like grow your first crop in the marsh. At launch, you won't be able to create new houses for your new characters... fortunately, players can construct a visitor lodge with plenty of room for new NPCs. And finally, we're still working on a way to allow modders to specify their own waypoints when scripting events that include a lot of walking.






New Tool Upgrades


Here's some more awesome icon work from Sarah Seember Huisken. Upgraded fishing spears throw faster and your catch radius increases - making it easier to get the elusive '3 fish with one spear' achievement.






Meet Anthony Washington


Anthony Washington is Jade's younger brother. Rebellious by nature, Anthony refused to take part in their family's business and instead pursued a career in the military. However, after being injured in the line of duty, he has graciously accepted Jade's invitation to serve as the colony's security officer.


---
RE: Verdant Skies - Life Simulation, dating, farming, plant hybridization, and more! - EvolPenguin - Jan 3, 2018 09:25 PM

I'm crazy impressed with the dedication to the dev-log by the way! Looking forward to playing it
---
RE: Verdant Skies - Life Simulation, dating, farming, plant hybridization, and more! - AndyKorth - Jan 15, 2018 02:06 PM



Final Stretch!


We're grateful to all of you folks who have been patiently waiting for our release! We haven't nailed down an exact date yet, but we're in the final phase of testing and clean up, so you should expect to see us on Steam sometime later this month or in early February. Thanks for your patience and engagement throughout the development process. You are why we do what we do!

The current count of lines of dialog: 37,862!






New Machines


Sarah Seember Huisken has been at it again! Check out these gorgeous additions. The animal genetic splicer will function similarly to the crop genetic splicer (left). Once you get your ideal DNA sample you can bring your new animal to life in the animal incubator (right).






Marsh Crops


There are 14 different crops that grow in three different regions. It seems we haven't shared too many screenshots of them yet, so here are a few of the marsh crops!






New NPC Animations


We've had the chance to work with a group of very talented local artists while making Verdant Skies. The most recent is Ethan Calabria who jumped in to finish the NPC sprite walking cycle animations.




We're still making minor adjustments to the facial features, so these aren't exactly what you'll see in game. Once we've settled on the style of eyes, nose, and mouth that we wish to use, we'll give all the NPCs a more uniform appearance.





UI Updates


Andy's been working hard to make sure that the in game user interface (UI) is uniform and streamlined. Here's a peek at the progress he's made on the achievement panel where players can track their achievement progress.






Introducing Ramón Martínez


Space travel is not something Ramón Martínez would have ever considered if it weren't for his twin sister, Rosie. Though risk-averse, Ramón could not refuse her request to serve as the colony's nurse. Always the overprotective brother, Ramón spends most of his time watching over Rosie... Whether she likes it or not.


---
Thanks Alex! Yeah, I post this elsewhere too, but I figured maybe some people would follow it here on iDevGames, so why not
---
RE: Verdant Skies - Life Simulation, dating, farming, plant hybridization, and more! - AndyKorth - Jan 25, 2018 05:23 PM



Release Date Announcement!


It's been a busy month, but we're thrilled to announce our release date of February 12th. We were hoping to have everything finished by the end of January, but we needed a little more time to make sure we give you the best experience possible at release. The biggest time sink has been getting meaningful daily dialogs written for all of the characters, and that's the main thing we're still finishing up. Sorry to disappoint everyone with the slight delay, but it'll be worth it!


If you've already purchased Verdant Skies through our Humble Bundle widget, thank you! Your key will arrive a few days before launch so you can pre-load the game on your computer. It will unlock when it's live on Steam!



New Website and Wiki


We've upgraded our website with a cleaner look and more intuitive interactions. It's one of those things you do when your game is about to be released! Thanks to the folks over at Gamepedia, we also have a wiki: https://verdantskies.gamepedia.com/ They're already filling it in, so if you're worried about spoilers, don't browse too deeply!

We just started a discussion forum on Steam. If you've got questions or comments, that's a great place to ask: http://steamcommunity.com/app/730050/discussions/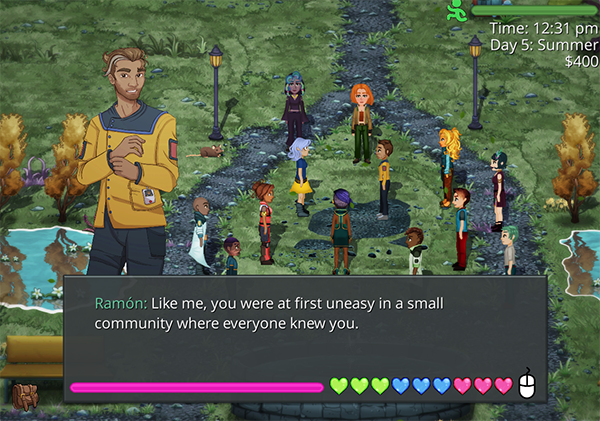 Mountain Crops


The mountain crops are the most challenging to grow, since they require unlocking the mountain region and having the tier 3 tools. But the more difficult crops have a higher base price, and having access to all 14 crops will allow you to make the most complex recipes that restore the most energy.






Pair Events and Other Romances


We've been writing events that occur between two characters once you've reached a certain friendship level with both of them. These have been a lot of fun to write, since the player gets to see their differing personality traits interact. Not all of these events are romantic, but if you're not dating either of those characters, they might start expressing interest in eachother!






Followup Dialog


To make the characters seem even more alive, certain events have followup dialog. Especially useful when an event didn't include the player, the followups allow the NPC to confide with the player and share some extra details about the person they were just talking to.






End Game Content


In addition to the blueprints you can unlock through the Planetary Pioneer blueprint system, there are some even more advanced blueprints to unlock through character events. They're tough to make, but offer some nice boosts once you've established yourself in the colony.






Finalized Sprites


In the last newsletter we showed you a few stills from our new NPC animations. Here's the full lineup of colonists on Viridis Primus! You've met most of them, but there's a few we just didn't have time to introduce.






Introducing Nessa Collins


Nessa Collins can be found flitting about her laboratory intensely studying samples from her menagerie. A talented zoologist with an interest in cloning, Nessa will help you improve the quality of your livestock products.


---
RE: Verdant Skies - Life Simulation, dating, farming, plant hybridization, and more! - AndyKorth - Feb 12, 2018 01:26 PM



Live on Steam!


The last few years have been full of ups and downs, but it was all worth it to be able to bring Verdant Skies to life. Thanks for accompanying us on the journey!






Steam Community & Modding


We want to support our community, especially folks looking to create mods. Please join the discussion on our Steam Community Hub. We can't wait to see what you create!






Wiki Help


As you play Verdant Skies, please consider helping populate the official wiki. The Gamepedia folks did a great job starting it off, but there's a lot more to fill in!






Lou's Reviews


Thanks to Lou of Lou's Reviews for the excellent endorsement in his review! We hope we live up to his praise!

https://www.youtube.com/watch?v=Re3uiT5iJdU

"Verdant Skies is destined to be an indie darling"



Humble Bundle Buyers


If you pre-ordered Verdant Skies via the Humble Bundle widget, thank you for supporting the development process! If you lost your email, you can use the key lookup here: https://www.humblebundle.com/resender


---