Super Tap Heroes Beta
Nibbie
Posts: 1
Joined: 2014.11
HIGHLIGHTS! Key features:
-Challenging Boss Encounters.
-Endless runner RPG. Upgrade! Unlock super powers!
-Multiplayer. Go Tandem with another Superhero Live!
(this feature is underdevelopment)
Greetings! from Bai Web and Mobile Lab, we are a startup company designated here in the Philippines.
Our game Tap Heroes was published weeks ago on googleplay and amazon, and now we are on Apple appstore, but still in beta. Currently waiting for approval. For now we are open for beta testers, for those who want to try our game, email your itunes email ad at
ios@bai.ph
, and we will send you an exclusive invite.
What to expect on our iOS version:
Everything
will be better than our android versions.
Requirements:
1. Install Testflight app.
2.
CRITICS/COMMENTS
will be a great help for us in improving the game. You can post your feedback here or email us at
ios@bai.ph
.
Latest version:
10
Changes on version 10:
1. Levelup to level 5 to unlock Tier 2 gear. Tier 2 +1 health.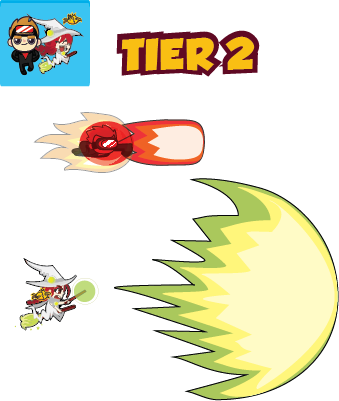 2. Powers are now upgradable. Upgrading will increase effectivity.
3. Changed Animations for Power: Blast.
4. Changed Attack Animations.
Previous updates:
1. Tapping to Fly. Increased height.
2. Tapping to Fire. Delayed, to avoid too much spam.
3. Improved UI.
Thank you testers!
We will be giving promo codes for those who participated.
Game Discription:
This is not the usual endless runner/flying game. Your score is based on how many People you save. The farther you go, the more people you can save. Collect coins, and use them to unlock Super Powers for your heroes. Super powers are very useful in Boss Encounters. Boss Encounters is also one of the major features in Tap Heroes. There will be a lot of Boss Villains you can encounter, each of them has different capabilities and weaknesses.
Game Controls:
1. Tap anywhere to Shoot.
2. Tap Arrow up button to fly. Reminders, Gravity will pull you down so you have to tap, tap & tap arrow up to maintain flight. This is somewhat similar to flappybird.
3. Tap skill tabs to use Super Powers. Skill tabs are located on the lower right of the screen.
Features/Content (that can be experience on the current version):
as of now..[/B]
1. Heroes and Super Powers
1.1 two (2) Heroes.
1.1.1 Super Boy, a mutant who shoots energy missiles. Now Star Boy on version 10. Inspired by Starlord of Guardians of the Galaxy
1.1.2 Misty the broom rider, a Sorceress who casts ghost missiles.
1.2 two (2) Super Powers.
1.2.1 Dragon Blasts, fire a wide range of flame.
1.2.2 Super Shield, Summon a shield around the player. Makes the player invulnerable, except for special attacks. Lasts for a short period of time.
2. two (2) Boss encounters.
2.1 The Eye, a flying monster with big bad horns. The Boss can only be damaged through it's eye.
2.2 Second Boss is another Sorceress who fires hex/curse missiles, which turns players into a chicken. Curse lasts for a short period of time. The Boss Sorceress also casts a shield around her, which makes her invulnerable for a short period of time.
3. Cute Distractions
3.1 three (4) types of Evil critters:
3.1.1 green horned
3.1.2 yellow cyclops
3.1.3 raging horns - looks the same as green horned, but are color red and raging. Fast speed
3.1.4 pink bird - This one ain't really cute. Spits green saliva.
3.2 three (3) types of aliens to save.
Here's a short preview of our game (This video is not updated, there are changes in the actual game)
https://www.youtube.com/watch?v=dIrue6aXrFc