Verdant Skies - Life Simulation, dating, farming, plant hybridization, and more!
Moderator
Posts: 471
Joined: 2008.04
Gamer's Rhapsody: Best Game of 2016!
At Gamer's Rhapsody we won 2016 Game of the Year and Best Story! And best of all, we had a lot of players who got to sit down with Verdant Skies and play through the beginning of the game. Since Gamer's Rhapsody is a relatively small convention, players were able to continue their saves on the second and third day of the convention, so half a dozen players were able to get 1-3 hours of gameplay! Thanks to our dedicated testers who got through the first 3 character events, picked and sold $500 worth of flowers, and got all the tool upgrades.
Thanks to Gamer's Rhapsody for an amazing con!
Feedback from the testers filled several notebook pages and has been a huge help in balancing prices and the timing for the first dozen events.
Polishing Animations
A lot of polishing is happening throughout the game. One good example is this new animation when fields are watered.
Look at those fields!
Fertilizer, Sprinklers, and Area Specific Crops
I've been working on some of the more advanced farming features. After watching some of the people who played a longer amount of time at Gamer's Rhapsody, I realized there was room for more advancement in farming. Once players have done a few rotations of crops in one or two fields, they are looking for some ways to make themselves more effective. Fertilizer increases the growth rate of a crop - and a certain genetic trait makes it a requirement. Sprinklers allow you to water a whole 2x2 field with a single touch.
Drag and drop to apply fertilizer
I've also finally done the programming to unlock region specific crops. Rice, for example, grows only in the marsh. Cactus plants can only be cultivated in the mountains.
Controller Support
We've added controller support and the ability to rebind the keyboard keys. The game is still completely playable with just the mouse, but our goal is to make it playable with just a keyboard or just a controller as well. We're testing with XBox, PlayStation, and Steam controllers, but the system should work with just about any controller you can imagine. Worst case, you'll have to bind some buttons manually in the interface. </p>
The biggest challenge with controller support is making sure all the menus can be navigated effectively with the controller. This has proven to be time consuming so far, but it's just a matter of sitting down and doing the work.
This is one of six new hairstyles.
We're continuing to add new clothing and hairstyle options. I've developed an animation testing tool so it's easier to make sure all the clothing lines up properly.
Introducing Rosie
Rosie Martinez is the colony's talented mechanical engineer. Blind from birth, she never let her disability hinder her adventurous nature. She has a knack for fixing things and has many patents for her original designs. Respected by her peers on the home world, Rosie now uses her gifts to aid you in your colonization of Viridis Primus.</p>
Moderator
Posts: 471
Joined: 2008.04
Yeah, technically it might be March now, but we've been so busy working on the game, posting about the news falls to the back burner. And honestly, making the game is more fun than writing blog posts anyway.
Cleanup, polish, improvements, and even a few new features have been the focus for the last month. Under the hood, there's been some big upgrades to the audio engine (upgrading WWise to a new version) and a major rework on how shadows and reflections are rendered. These changes allow for better performance and fix a few outstanding graphical glitches that we've mostly just avoided showing in screenshots. Shadows and reflections are now much more consistent. For example, when you see a flower waving in the wind, the reflection and the shadow now also wave.
Insect Catching
Insect collecting is a new memory-matching style mechanic we've introduced. Alpha testers have loved the fishing mini-game, so we wanted to expand that to other resource gathering tasks. In order to successfully collect an insect, you need to find a matching pair of them out in the world. Once you've got a pair, the insects go into your inventory and can be sold (maybe even cooked), or given to a character who collects them in their terrarium.
Jade's Room
New Interior Decorations
Lizzy has been hard at work making new interior decorations (in addition to new portraits for old and new characters). The extra wallpapers, floors, and new furniture allow for a lot more personalization in the interiors.
Rosie's Room
Story and Dialogue
Two new characters now have their arrival events written, bringing the total of already unlockable in-game characters to six. We've got 6000 lines of dialog in the project so far, and we've fleshed out most of the first five friendship events for the first four characters. After the five friendship events, you unlock the next five romance events- somewhere towards the end of that group, you make the decision to exclusively date that person, which can lead you towards marriage.  
We've also done the programming work necessary to move the quests, mails, and event triggers out to a separate file. These are easy-to-edit json files, and it allows us to work on them without having to recompile the game. But more importantly, it allows for the possibility of users editing the files to add their own content!
The cave has also received some upgrades.
Preorders Available
We've made pre-orders available via the Humble Bundle store! Once Verdant Skies is released, you can redeem a steam key for the game through the Humble Bundle site. If you'd like to support our development process, you can preorder on the Verdant Skies (
http://verdantskies.com/#preorder
) page. Pre-orders aren't for everyone- don't worry, we'll let you know when the game is released too!
Trees take a few days to regrow now, forcing players to explore a bit further if they are doing major lumber construction projects.
Introducing Jade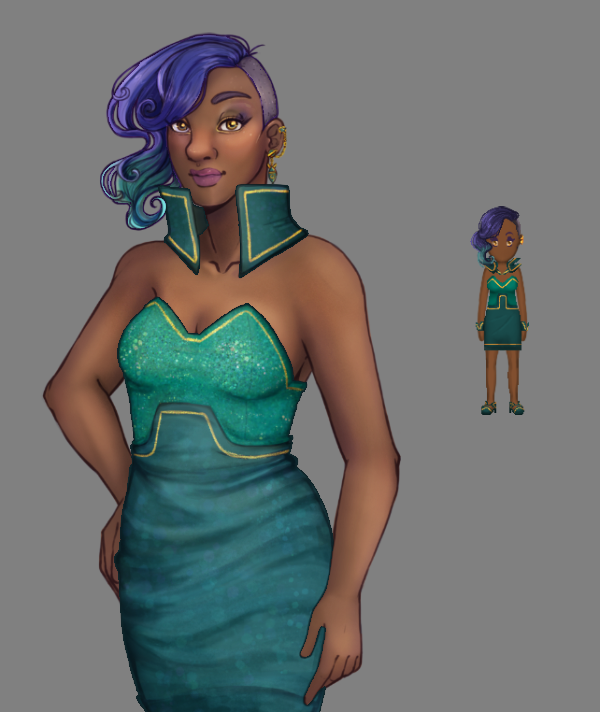 The mastermind behind the colonization of Viridis Primus, the colony's administrator Jade Worthington is a force to be reckoned with. Direct and driven, Jade enjoys the company of likeminded people. Laziness or ineptitude is sure to land you on her bad side. Her motives are a mystery but it is obvious that she is determined to make this endeavor succeed no matter the cost.