Poor quality Maya PLE Render.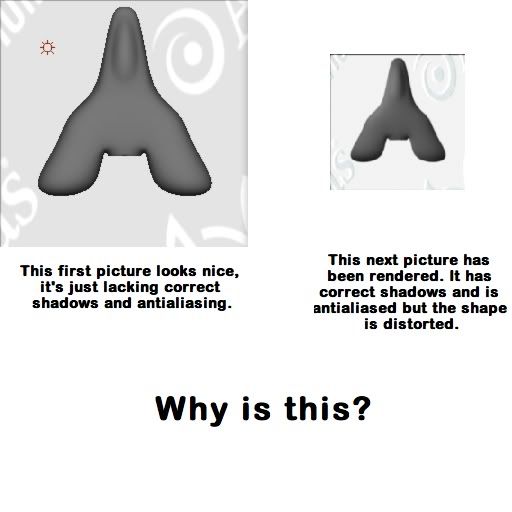 I'm using the Maya 6 PLE on a Mac running 10.3.9. Does anyone have any idea why this poor quality rendering might be ocurring? It's been suggested to me that Alias may have crippled the PLE even further than the watermarks (I've rendered between watermarks here, so that you can properly see the effect). Does anybody know if there is any basis to this claim?
Thanks,
Mark
Possibly Related Threads...
Thread:
Author
Replies:
Views:
Last Post
Maya OpenGL export
MrLee
10
9,809
Aug 5, 2008 11:26 AM
Last Post: MrLee
Poor precision in depth texture
TomorrowPlusX
59
59,395
Jul 3, 2007 12:23 AM
Last Post: Ciaran
New Member 3D Designer, maya, work?
speakerwizard
6
6,990
Nov 13, 2006 02:29 PM
Last Post: sealfin
Convert Maya model into OpenGL
creater16
13
15,694
Jul 28, 2005 03:58 AM
Last Post: creater16
Howto compile a Maya Plug-in on OS X?
webwarrior
4
7,051
Dec 16, 2004 01:19 PM
Last Post: KenD